After each media session, Quotes and Notes will bring you what was said, who said it, and what it means for your Los Angeles Rams. Here's what you should know from Monday, Aug. 26.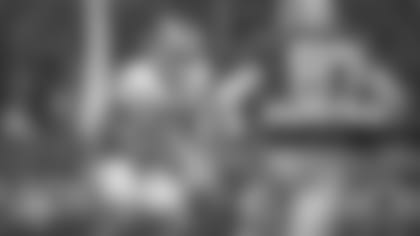 "We're slowly building him back in." 
– HC Sean McVay
CB Aqib Talib will be cleared for full participation in practice at some point this week after dealing with a "little twinge" in his hamstring since joint practices with the Raiders, according to McVay. 
When McVay first discussed this on Aug. 13, he indicated Talib was being limited for precautionary reasons due to it being a soft-tissue injury. 
McVay said Talib worked out before last Saturday's preseason game against the Broncos and is feeling good.
"It's good. There's pros and cons." 
– RB Todd Gurley II
The Rams chose to rest Gurley and many other starters for the second consecutive preseason, and he is happy with the decision. 
One of the benefits to the approach, according to Gurley, is how well it works with the new NFL roster deadlines. Since clubs no longer have to trim their rosters from 90 to 75 to 53 – now it's just 90 to 53 – it gives several players opportunities to make an impression whenever starters sit.
Among the reserves expected to play against Houston, Gurley said he was excited to see RBs Matt Colburn, Justin Davis and John Kelly take the field.
"Those are two very important players to us as we move forward this season."
– HC Sean McVay
Asked if there was any progress on contract extension talks with QB Jared Goff and CB Marcus Peters, McVay indicated there is no update at this time. 
While McVay understands how critical both are to the team's success in 2019, things like training camp have kept the team preoccupied when it comes to discussions about their futures.  
The Rams exercised the fifth-year option in Goff's rookie deal back in April, which will keep in under contract through the 2020 season. They did the same for Peters last season to keep him under contract through this season.