After each media session, Quotes and Notes will bring you what was said, who said it, and what it means for your Los Angeles Rams. Here's what you should know from Friday, Aug. 16.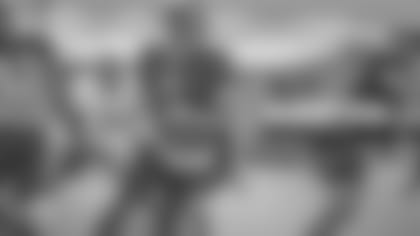 "For us, it would be, and for me personally, the operational part of it."
– QB Blake Bortles
With quarterback Jared Goff among the many starters not making the trip to Hawaii, Bortles will get another chance to show what he's capable of with the Rams' second-team offense and what he learned from last week's preseason opener at Oakland. 
Bortles mentioned getting in and out of the huddle quickly, eliminating some of the penalties L.A. committed, pre-snap things and getting aligned right as the procedural items he wanted to clean up this weekend against Dallas. 
The six-year NFL vet completed 3 of 8 passes for 50 yards across two series against the Raiders last week in his Rams debut.
"(Aaron Donald is) probably pretty good at whatever he wants to do. I'll have to see, if you guys give him some good lines, how smooth he looks on camera. I know he looks pretty good with a helmet on on-camera, but it'll be fun."
– HC Sean McVay
In addition to being in Hawaii to support his teammates, Rams defensive tackle Aaron Donald also said he had some "business stuff" he was doing. That would be playing a role in the next episode of Magnum, P.I.  
Several members of the show's production crew were at practice today to film Donald's part, as you can see below. 
McVay said it's a good and deserving experience for Donald.
"We had a couple people behind, but the nice thing is, when you've got the ownership from your players, I think, in a lot of ways, they were kind of run it themselves and that's what you always want."
– HC Sean McVay
Although many of the Rams' starters did not make the trip to Hawaii this weekend, a plan was still in place for what they needed to accomplish back home. 
According to McVay, Assistant Strength and Conditioning Coach Eddie Grayer remained in Los Angeles to supervise the workouts done by those players. Then some of members of Senior Director, Sports Medicine and Performance Reggie Scott's staff also stayed behind to assist. 
The ownership from players is something McVay has brought up often in the preseason, indicative of the trust he has in them.