Following each practice, Quotes and Notes will bring you what was said, who said it, and what it means for your Los Angeles Rams.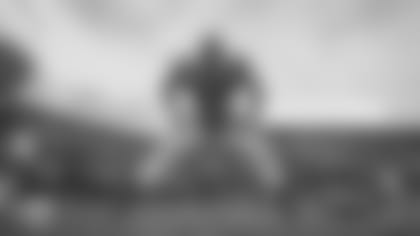 "I've never really been a big birthday guy, to be able to be practicing right now is a blessing."
-HC SEAN McVAY
Head coach Sean McVay turned 33 on Thursday and celebrated his birthday by kicking off the Rams' preparation for the Patriots in Super Bowl LIII at the team's Thousand Oaks practice facility.
According to ESPN Stats and Info, McVay will be the youngest coach in NFL history to coach in the Super Bowl — he's 33 years younger than New England's head coach Bill Belichick.
McVay said a good birthday present would be "to take care of business over the next few weeks." The Rams head to Atlanta for a week of practice at the Falcons' facility on Sunday.
"Didn't seem like it affected him, did it?"
-HC SEAN McVAY
Kicker Greg Zuerlein popped up on the Rams injury report on Wednesday afternoon with a left foot injury. On Thursday, the head coach said Zuerlein's foot strain should not be a concern come Feb. 3 and his staff is being particularly cautious.
McVay said the injury occurred during the NFC Championship game in New Orleans and that it didn't show in Zuerlein's 48-yard game-tying kick or 57-yard game-winner in OT.
Zuerlein's 57-yarder was the longest game-winning field goal in NFL postseason history.
"I think you cannot underestimate the value of chemistry when it comes to kicking a field goal."
-STs COORDINATOR JOHN FASSEL
Special teams coordinator John Fassel emphasized how much attention detail goes into kicking a game-winning field goal like Zuerlein's. Fassel said there's more than what meets the eye in the 1.25-second process of long snapper Jake McQuade's snap, the hold by punter Johnny Hekker, and kick from Zuerlein — specifically mentioning snap cadences, to which direction the laces are facing when the ball is kicked.
Zuerlein has been successful on 27-of-31 field goal attempts in 11 games this season. Sunday's 57-yard game-winner was his longest made field goal of the season.
Fassel confirmed his kicker hit the two clutch field goals with an injured plant foot, saying he found out on the plane ride home that Zuerlein stepped on a metal plate on the Superdome's turf while warming up after halftime.
"What stood out was his ability to weather the storm."
-HC SEAN McVAY
McVay said he's not worried about how his third-year quarterback Jared Goff will fare on the sport's grandest stage in Atlanta.
Goff faced some seriously loud adversity in the NFC Championship game at the Superdome. Goff revealed after the game that he was unable to communicate with his play caller for the first two drives of the game, and it showed in the results of those possessions. Goff's group ran three plays and threw an interception on a dropped pass by running back Todd Gurley on the opening drive, and then went three-and-out on the second set of downs.
McVay credited his quarterback for bouncing back from the mishap on Thursday.
"Yeah I'm ready, yeah I'm ready to go — I think I don't have a choice, I better be ready."
-QB JARED GOFF
Goff drew a laugh from media members when asked if he's ready for his first-career Super Bowl against Patriots' quarterback Tom Brady, who is preparing for his ninth trip to the big game.
Goff enters Atlanta coming off a career-postseason high 297-yard, one touchdown performance against the Saints and the Superdome noise in the NFC Championship game.
"He's the GOAT man, one of the best to do it — super competitive guy and he's really like the offensive coordinator on the field."
-CB AQIB TALIB
Before saying he "better be ready" for his quarterback duel, Goff said he believes his defense will be ready for what Brady has to offer come next Sunday.
Cornerback Aqib Talib, who spent part of the 2012 season and all of the 2013 season as a Patriot, called Brady the greatest of all time on Thursday.
The corner made four of his 10-career playoff appearances as a Patriot, before facing the Pats in the AFC Championship game in 2015 as a Bronco. Talib had two passes defensed against Brady in the win — Talib intercepted a Brady pass in their first-ever meeting back in 2009.
"I felt like over the last couple games and prior to that we started to take care of business, which is the right time to start to peak."
-DT NDAMUKONG SUH
Defensive tackle Ndamukong Suh said the Los Angeles run defense is peaking at the right time thanks to "an extra 'oomph'" in walk-thrus and attention to detail over the last few weeks.
The Rams have allowed 50 yards rushing or fewer in each postseason game so far, and the success has come against two of the league's top running backs in Ezekiel Elliott and Alvin Kamara. Suh followed up what McVay called one of his best games of the season against the Cowboys with another big showing against the Saints. Suh had 1.5 sacks, four tackles, and an additional quarterback hit in the NFC title game.