After each media session, Quotes and Notes will bring you what was said, who said it, and what it means for your Los Angeles Rams. Here's what you should know from Saturday, Aug. 3.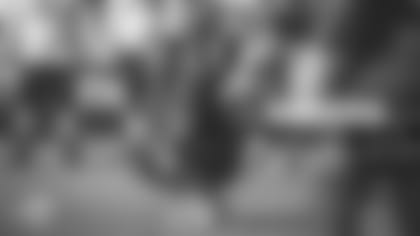 "We were sluggish. I thought it seemed like the defense had good energy, offensively not even close to good enough. I thought they finished the day strong which is what's important and our guys kept it together."
— HC Sean McVay
Head coach Sean McVay was about as critical as he'll ever be publicly after Saturday's joint practice with the Chargers.
McVay — who as the offensive play caller was solely on that field throughout the session — noted that he was not pleased with the way the offense came out and performed in the early portions of practice.
McVay included himself in the criticism, saying the start to practice was a reflection of the entire unit.
The Rams' offense did improve over the course of practice, finishing strong.
"Just the overall energy that I expect, specifically from our offense, we got to start better than that and I trust that we will. We'll use it as a good learning opportunity," McVay added.
"Today was OK. It was a rocky start. I think the Chargers did a good job bringing some different stuff to us and showing some different looks. I was happy the way we finished[.]"
— QB Jared Goff
Quarterback Jared Goff shared McVay's sentiments about the offensive performance on Saturday.
Goff noted that the Rams did improve as practice went on, particularly by scoring two touchdowns late in practice.
Goff and the rest of the offense will have a chance to display an increase in energy next week when the club travels to Napa, Calif. to practice with the Raiders.
"[F]or him to be able to get out here in these types of settings, I think it's only going to continue to make him more and more comfortable so that hopefully he's peaking by the time we play Carolina because he's not a guy you're going to see during the preseason."
— HC Sean McVay
McVay made those comments about wide receiver Cooper Kupp.
Kupp has been a full participant in practice, but the Rams held him out from the first session with the Chargers on Thursday out of an abundance of caution.
Both McVay and Goff said Kupp looked like himself on Saturday, with Goff noting that he's used to Kupp playing at full speed at this point in the wideout's recovery process.
"You see he's made some plays over the last couple days. He's got great explosiveness, he's catching the ball really well."
— HC Sean McVay
Wide receiver Mike Thomas has impressed over the course of the last couple practices.
A 2016 sixth-round pick out of Mississippi State, Thomas spent most of last year on injured reserve.
But now he's back and seems to have developed a strong chemistry with backup quarterback Blake Bortles.
Because of that, it stands to reason that Thomas will be a featured part of the offense during the preseason games.
Thomas also subbed in for wide receiver Brandin Cooks during the first practice with the Chargers on Thursday when Cooks was experiencing hamstring tightness.
"In a preseason game you may or may not get the exact red-zone look that you're looking to get or you may or may not get that third-and-whatever distance you're looking to accomplish or improve on."
— Passing game coordinator Shane Waldron
Passing game coordinator Shane Waldron explained to the media why he likes joint practices over preseason games.
Being able to practice a certain scenario for an extended period of time makes them particularly valuable, especially because those might not come up in a game.
Waldron also mentioned two-minute drills as a game situation that Los Angeles needs to practice, but wouldn't necessarily happen during one of the four exhibitions.
Goff cited the offensive line's ability to get potentially 40-50 snaps against the Chargers' first-team defense that includes famed defensive ends Melvin Ingram and Joey Bosa as one of the reasons why joint practices are so valuable. As Goff put it, in a preseason game, that might be reduced to five to 10.