IRVINE, Calif. – Monday's practice saw wide receiver Tutu Atwell continue to make plays, and safety Jordan Fuller notch his first interception of training camp. Cornerback David Long Jr. also got in on the action with a pick of his own.
Here are 10 observations from the session: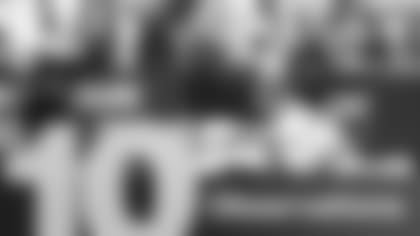 1) Stafford doesn't throw, but that was part of the plan: Quarterback Matthew Stafford didn't throw during Monday's practice, but that tracks with the overall plan they have for him and his elbow, according to head coach Sean McVay.
2) Floyd doesn't finish practice for precautionary reasons: Outside linebacker Leonard Floyd started practice but exited early, which McVay said was because Floyd was dealing with something in his "lower half" and that they wanted to be "smart" with him.
3) Kyren Williams practices for the first time: After being sidelined while recovering from a broken foot sustained the week before mandatory minicamp, the rookie running back finally made his training camp debut on Monday, going through individual drills before being shut down for the afternoon. "He's making good progress," McVay said after practice. "So we're just going to take it a day at a time. (He) was able to participate in individual stuff, and looking forward to just kind of just seeing his workload incrementally increase."
4) More positive progress from Atwell: Wide receiver Tutu Atwell picked up where he left off last week, making a pair of impressive catches during team drills. One of them, a 40-yard grab on a John Wolford pass, was made with rookie defensive back Cobie Durant tightly covering him. Later on, he held on to another deep ball – this time from Bryce Perkins – between safety Nick Scott and defensive back Troy Hill.
5) If it's up...: Wide receiver Cooper Kupp made an impressive catch during team drills, snagging the ball out of the air before safety Nick Scott had a chance to make a play on it.