IRVINE, Calif. – A no-look pass from quarterback Matthew Stafford and pass-catchers' playmaking highlighted Saturday's open practice at 2022 Rams Training Camp presented by UNIFY Financial Credit Union.
Here are 10 things that stood out from the session: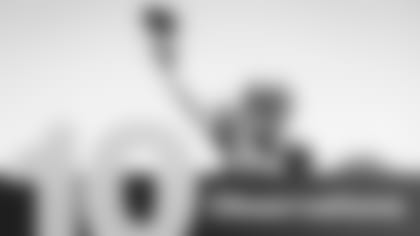 1) Ramsey dresses in pads for first time in training camp: After limiting the scope of his role in training camp to the walkthrough period preceding the main practice through the first 11 practices, Day 12 saw Ramsey in pads. "I think he was a little irritated that his shoulder pads were a little bit bigger than what he'd liked, but he still found a way to make it look really good, and thought his movement was good," McVay said.
2) Don't blink: The best play of the day was a signature no-look pass from Stafford during 7-on-7 work, finding wide receiver Allen Robinson II over the middle for a touchdown. Lots of cheers from the crowd followed.
3) Packed house: Another great atmosphere at Rams Camp on Saturday saw the bleachers get full 30 minutes before Saturday's practice began and reach standing-room-only. Those standing went three, in some spaces four rows deep along the barriers surrounding the practice fields.
4) Speaking of the crowd: The other Stafford throw that drew lots of cheers was during individual drills when Stafford threw a deep completion to Kupp.
5) More confidence for Skowronek: Wide receiver Ben Skowronek made a couple nice catches in 11-on-11 drills, catching a pass Wolford zipped over the middle and later grabbing a short pass from Wolford near the sideline. He also had a toe-tap catch on a deeper pass near the sideline later on in the session.
6) Pads popping: The Rams are doing "thud" tackling – attacking the ball with an emphasis on keeping players on their feet – but that didn't prevent veteran defensive back Troy Hill from making an audible pass breakup on a Bryce Perkins pass intended for wide receiver J.J. Koski.
7) Rochell gets up: Second-year defensive back Robert Rochell skied for an impressive pass breakup on a Wolford pass intended for Robinson in the endzone.
8) Close: Stafford nearly floated a beautiful over-the-shoulder touchdown pass to wide receiver Tutu Atwell in 7-on-7, but rookie defensive back Derion Kendrick was there to prevent the completion.
9) Yeast in coverage: Rookie defensive back Russ Yeast played tight end Tyler Higbee tight enough to cause him to catch a would-be touchdown in the corner of the endzone out of bounds.
10) Wagner "sack": During one play in 11-on-11 drills, linebacker Bobby Wagner shot through his gap to get to quarterback Bryce Perkins for a would-be sack. "Would-be" because Perkins was wearing a red non-contact jersey, and while Perkins kept scrambling, Wagner was close enough for it to count.