Each week, we interview a different Rams player to find out about their lives on the field as well as off of it. Team Reporter, Sarina Morales, asks the questions fans want to know, in a fun and conversational interview. This week, cornerback, Jalen Ramsey, spoke to Sarina about earthquakes, why he chirps during games, and how he grew into being one of the best defensive players in the NFL.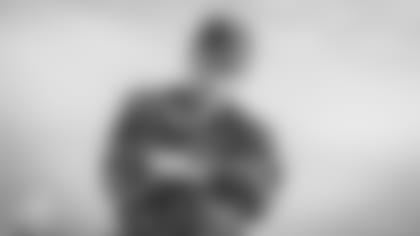 Sarina: Welcome to LA! You experienced your first earthquake.  
Jalen: Oh yeah, I did! I've only been here for three months... experienced my first earthquake. It wasn't crazy though. I wasn't scared or nothing. I was just sitting there. I was watching Power actually. I was catching up on Power and I felt a little move and because they're doing construction by my house, I was like, "Maybe they're doing a late, little something over there, late construction, moving or something, or my neighbors having a little party." And then I started seeing all my stuff on my dresser move, and I was like, "No, that's a little earthquake." But it was short though. It was like five seconds. I was texting my people back home like, "Yo, I think I just had an earthquake." They woke up the next morning tripping.
Sarina: You've been here for three months. What's your favorite part of the city? Do you have a favorite part? 
Jalen: Not really. I'm still exploring. This is really my first month to be able to explore a little bit just because I was busy with football. So, I've been around a little bit, and of course I visited LA from time to time when I didn't live here. But I don't know, it depends on what you want to do. You want to go to nice dinners or something, you can go to Malibu. You want to go to nice shops or something like Melrose, Fairfax, Beverly Hills.
3: You win some, you lose some 
Sarina: How was it playing with the team overall this year? For half a season? 
Jalen: It was cool. I wish I could have been here the whole time. Just because I think we had a special defense. I mean we were good. We had a couple of hiccups here and there. A couple of games before I got here. They were three and three, so I heard those three games were kind of the same thing… a couple of hiccups. I feel like maybe that's what defined the season a little bit, some good games, glimpses of a really good team, a championship caliber team. Again at times just tripping pickups. That's how you end up with a 9-7 record I guess. But for me, I mean it's still a blessing to be honest. It's only my second winning season in the NFL. I had [another] really good year, the one year with the Jaguars. Every year other than that has been a very bad year. A losing season, four wins, three wins, stuff like that.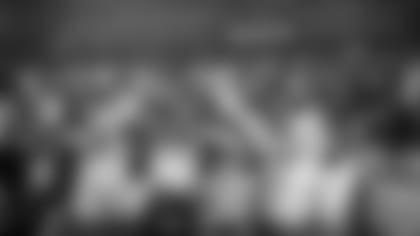 Sarina: The guys [here] really respect you. They liked you [this season]. 
Jalen: Yeah, I think I bring a different little aspect of when it came to defense. Switched up a little bit as far as our coverages. I think they appreciated that in the DB [defensive backs] room. Our communication, how we vibed together was really good. I can't really speak on what it was in the past, but I know we gel pretty good. So I think that's what helped all of that be a smooth transition. And then yeah, we all had one common goal and you could tell people were working hard to get to it.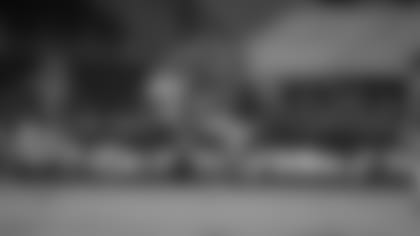 Sarina: Where did you learn to chirp? 
Jalen: (Laughs) I don't know. I guess when I was little, it's been with me in my whole life. I'm super competitive. 
Sarina: Are you like, "Oh, this worked, I'm going to do this again. I'm going to start [chirping all the time]..."? You might as well if it helps? 
Jalen: Yeah, it can. A lot of the times it's funny. A lot of times it gets me in my zone, gets me in the right mindset. When I start catching my teammates, who don't usually talk sh*t, start talking sh*t a little bit, then I know, "Yeah, we in a zone. They don't usually do this. We're on another level today." So yeah, it's cool to see how it goes some games.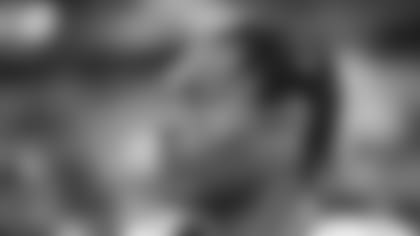 Sarina: Do you ever get nervous now? There was a point where that just stops, right? 
Jalen: Yeah. It stopped pretty early for me, honestly. Probably my rookie year it stopped. I don't get nervous anymore. I mean you always have the butterflies right before the game, and I wouldn't even really call it butterflies. Just super anxious to get out there and play, get your feet wet, get your jersey dirty a little bit. Hit somebody, cover the guy you're covering. After the first play, of course, it goes away. But, nervous, no. Not really nervous just because I feel like this was a gift. I was born to do this. To be one of the best in it. I know I prepare. I've got no reason to be nervous.
7: Being small isn't a big deal 
Sarina: When you grew up you were small? And now you're one of the taller corners. Has it helped you that you grew at a specific time? When was your growth spurt?  
Jalen: So, my freshman year in high school I was, no lie, I was probably four, ten. I was super little, but I still had my athletic ability. I was one of the fastest, one of the strongest little kids, I could jump high. And I had all of the qualities of a superstar football player, I guess. And then my sophomore year I had to have knee surgery and miss the sophomore year of football. And after that, I don't know what the doctor did, but after that I blew up. Going into my junior year, I was six foot. 
Sarina: What! You had one of those Rookie of the Year moments where the kid slips on the baseball? 
Jalen: Out of nowhere, I blew up. From my junior year, I started out, I was probably six foot 190. There was no looking back from there, but I kept all my good qualities, my speed, my strength, my athletic ability, my agility, all the good stuff. And for whatever reason my whole life really, I always wanted to be on the defensive side of the ball. I always had the mindset of, "I would rather hit people, than get hit." That was my mindset when I was little and I still keep that mindset, it still grows with me.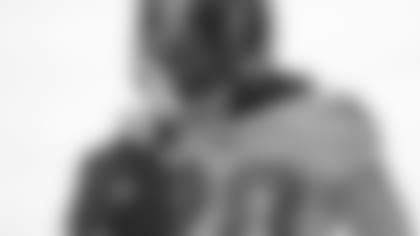 Sarina: What has being a father surprised you about yourself? 
Jalen: I don't know, I want to say I'm super self-aware of who I am at all times. Even before I had my daughters, but I still catch myself looking at them at times like "Wow, you are a part of me. We have the same blood. I made you." I do that all the time. And then seeing my oldest daughter, seeing her personality, because she's getting her personality, seeing her act like me. She's a little sassy, but then like a sour patch kid, can switch it up in a heartbeat. [She] wants to give me hugs and kisses, and be the sweetest, cutest girl ever. Just reminds me of myself a lot. How I could be a sour patch kid. (laughs) So, I guess I've learned about myself more through seeing her, and seeing how she acts, and I'm like "Yeah, that's my child, for sure."
Sarina: You went to SoFi, the new Stadium What did you think? Have you ever seen a stadium like that before? 
Jalen: No. For sure not. It's going to be crazy. It's going to be the best stadium in the NFL. But when I was there, it was more them explaining everything to me, trying to show me where things will be placed. The layout was there, the foundation was there, but nothing like... 
Sarina:There's no turf yet. 
Jalen: Yeah. Nothing visual that I could really see and go, "Oh, okay. I can really imagine this." So yeah, I'm excited too. I'm glad I got to see it at that stage though. So, now when I actually get in there and get to see it done, I'll be able to see, "Oh shoot, this is what I was looking at." I'll appreciate it a little bit more. They are working around the clock.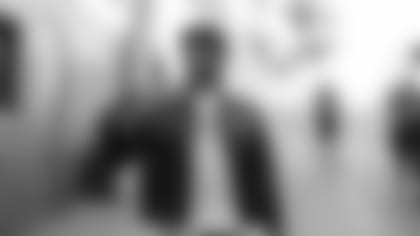 Sarina: On your Twitter profile, you have A Work in Progress. What's the thing you want to work on in the next year or two? 
Jalen: Every year I give myself a specific goal. Me and a couple of my closest friends. Last year 2019 was more joy for us. Always striving to be super joyous, living in joy, not living in sadness or misery, or anything that wasn't bringing us joy. And I feel like I took that and did that. Ended off the year super joyous, didn't dwell on anything through the ups and downs, my joy remained there. And this year we came up with more faith and more love. I say that, and I believe it and that's how I try to live my life.