Each week, we interview a different Rams player to find out about their lives on the field as well as off of it. Team Reporter, Sarina Morales, asks the questions fans want to know, in a fun and conversational interview. This week, safety, Taylor Rapp, spoke to Sarina about Spikeball, John Johnson's return and Tomahawk steaks.
Sarina: Where are you staying these days? How are you doing?
Taylor: Back up in Washington at my parent's house during all of this. I'm doing good, just trying to keep myself busy and active.
Sarina: A celebrity you would want to quarantine with?
Taylor: If I had to pick one celebrity to quarantine myself with, it would have to be Jeff Bezos. I would love to pick his brain on how he managed to start the empire of Amazon from his own garage and his mindset and way of thinking that helped him create the most successful and profitable company this day and age knows. His mind obviously operates differently than the normal individual, so it would be cool to be quarantined with him because he would have no choice but to share his knowledge with me.
Sarina: What is a new habit you've picked up since being at home?
Taylor: Playing GameCube. I haven't played since I was in grade school, but this lockdown and quarantine made me reminisce by living out my childhood and playing games like Zelda, Super Smash Bros, and Mario Kart.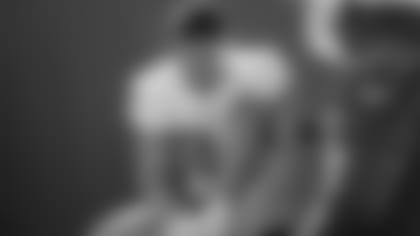 Sarina: Now that you got through a wild rookie year, looking back, what was the most challenging part of the season?
Taylor: I think the most challenging part was the beginning of the season, when I was still trying to find my way. As a rookie, it was hard to be thrown right into the fire and be a major contributor right from the get-go, but with the guidance and mentorship from guys like Eric [Weddle] and JJ [John Johnson], it made it as easy as it could be. About midway through the season and right around the bye week, I started feeling like my normal self (like back in college) and started to trust myself more and just playing instead of thinking and playing slow. I would say overcoming that first half of the season hump of getting more comfortable and back to my playing ways.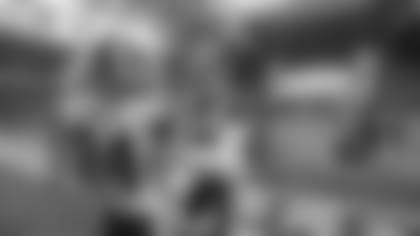 5: Let's hear it for Spikeball
Sarina: Outside of football, what is your favorite sport to play?
Taylor: Spikeball. It's a new and up-and-coming sport, but it's a really fun, little game you can play with 4 people. It's like volleyball but instead of hitting over the net, you hit the net and try not to have the opposing team return it. It requires a lot of quickness and good hand-eye coordination. I picked it up in college playing with some teammates, but haven't really played much lately. I sure need to start playing on some LA beaches once all this dies down.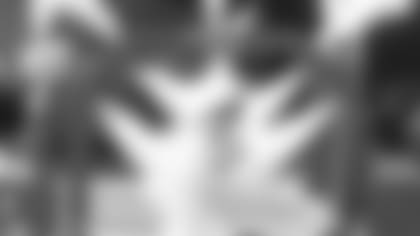 Sarina: John Johnson was out last season, and is expected to make a big return, what is your favorite thing about your fellow safety?
Taylor: JJ is such a good player and he really doesn't get the praise or respect he deserves, but just expect a big year from him this year. He's been working and rehabbing every day and he's itching to get back more than ever. He's a very versatile player. I think he can do everything a coach can ask a Safety to do on a defense. He can play deep, he can match up any tight end, he can drop down, he can play in the box, he can play linebacker, he can really do everything.
Sarina: For National Pet Day - what is the best part about being a pet owner? (Nat'l Pet day is Saturday)
Taylor: I love pets. Especially dogs. I grew up with a dog named Shep, who passed when I was in high school. They say a dog is a man's best friend, but he was really my best friend growing up. Then my family got two dogs, named Mia and Tai, and they're brother and sister from the same litter. They're great dogs and they're really the center of my family right now. Any chance I get, I spend as much time with them as I can. Go on walks, hikes, drives, really do everything and anything with them. Dogs are really a man's best friend.
Sarina: What is the dish you have mastered making? The dish you are most proud of?
Taylor: I would say my smoked Tomahawk steak. I recently got a Traeger Pellet Grill and every week I usually smoke and cook a steak on there. It took me several tries to get it down but I've mastered a perfect smoked Tomahawk steak using my Traeger. It's the best steak I've ever had in my entire life...throw that bad boy on my grill and smoke it at 225 degrees for 1.5 hours or so. Then crank the grill up to 450-500 degrees to finish it off for 8-10 minutes on each side. The steak is so juicy and full of flavor from the 1.5 hour smoke with the hickory smoked pellets used to fire the grill and the Traeger seasoning I use for the steaks. Obviously, you can tell I'm super passionate about this. It's really a masterpiece and a sight to see.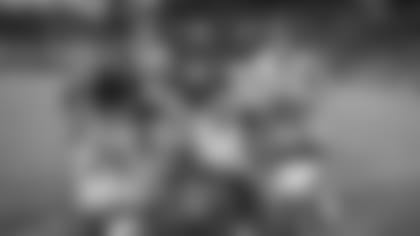 Sarina: You have to pick 4 teammates to join you on Family Feud, who would you pick to help you win and why?
Taylor: David Edwards, John Wolford, Andrew Whitworth, Coleman Shelton. David and John because they're both incredibly sharp and knowledgeable. Whit because he's been on this earth longer than any other teammate and has a lot of wisdom and knowledge. Coleman because you got to rep your alma mater and the UW education!! UW degree ain't no joke.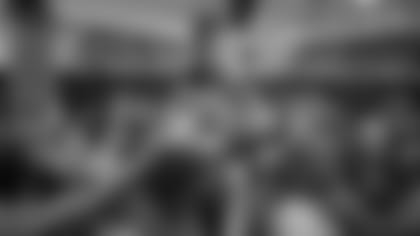 Sarina: The part of football you miss the most right now?
Taylor: I just really miss being around the guys and in the locker room. The NFL season is a long season and you really get to know all the guys and develop really good relationships with them because of the countless hours you spend with each other. You get really close to everyone. So being at the end of the offseason and now in quarantine, you really miss being around the guys.