Following each practice, Quotes and Notes will bring you what was said, who said it, and what it means for your Los Angeles Rams.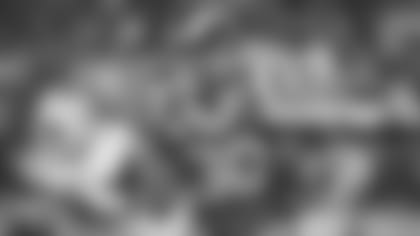 "We'll see how the gameplan plays out, we still got some time. I think the point is, you want to be able to give Todd some time — more opportunities, more attempts carrying the football."
-HC SEAN McVAY
Head coach Sean McVay once again shouldered the responsibility on Friday for running back Todd Gurley's limited opportunities carrying the ball in the NFC title game.
As usual, McVay spoke about the importance of sustaining drives on offense and establishing continuity in order to effectively use his new multi-back threat against the Patriots.
Gurley took a career-low four carries in New Orleans.
"I think he's going to bounce back, I mean he's not the best back in the game for no reason."
-RB C.J. ANDERSON
Anderson is confident in his fellow running back's ability to bounce back from his career-low 10 yards rushing against the Patriots' No. 11 run defense. And if Gurley's 2018 trend carrying the football continues, Anderson just might be right.
Aside from Week 14 and 15's back-to-back losses, Gurley bounced back from totals of 70 yards rushing or fewer with performances of at least 105 yards rushing on five separate occasions. Gurley posted seven games with at least 100 yards on the ground this season, including Week 6, when the back went for a career-high 208 yards against the Broncos.
"You can't fool the great quarterbacks anyway — you have to outplay them."
-DC WADE PHILLIPS
Defensive coordinator Wade Phillips joked that as he grows older, Patriots quarterback Tom Brady remains the same age, before calling No. 12 the greatest playoff quarterback in NFL history.
Phillips speaks from experience saying his defense must outplay the future Hall of Famer. Brady went 27-of-56 for 310 yards, one touchdown, and two interceptions, and took four sacks in the AFC title game against Phillips' defense in Denver back in 2015, which the 71-year-old called one of the best defenses of all time on Friday.
The coordinator expressed that it'll be no small task to best Brady's offense come Super Bowl Sunday, pointing out that the Patriots roll out the postseason's offensive leaders in yards at quarterback (Brady, 691), receiver (Julian Edelman, 247), and running back (Sony Michel, 242).
"Nobody can run the ball on his side and they have a tough time blocking him so they try to get two or three guys on him. So that helps everybody."
-DC WADE PHILLIPS
Defensive tackle Aaron Donald is yet to record a sack in the postseason after his league-leading and career-high 20.5 sacks in 2018.
Donald's lack of sacks has been a product of the offensive gameplans, according to Phillips, who seemed proud to point out both the Cowboys' and Saints' sub-50 yards rushing against the Rams.
Donald laid three quarterback hits on Drew Brees in the semifinal. Brady is yet to take a sack in his 16th postseason.
"This is what I dream about, this is what I work for, this is what you train for — to be in big games like this."
-DT AARON DONALD
Super Bowl LIII will be just the fourth-career postseason game for the all but guaranteed-two time AP Defensive Player of the Year.
Donald credited Brady's clean playoff jerseys so far to the veteran's quick release, New England's strong offensive line, and the team's handful of dangerous running backs.
"I know I got fined today, I know everybody knows that. I'm going to pay my fine, I know what happened, I'm going to pay the fine. It was all good, I'm moving on."
-CB NICKELL ROBEY-COLEMAN
It was reported on Friday that veteran cornerback Nickell Robey-Coleman was fined by the league for his controversial hit on Saints receiver Tommylee Lewis.
Robey-Coleman said he's moving on from the play entering Super Bowl preparation — against a familiar foe in Brady and the Patriots. The corner spent his first four seasons as a Buffalo Bill and went 2-6 against Brady in that time.
"That's something our guys have already started to talk about in terms of how we handle getting warmed up."
-HC SEAN McVAY
McVay said members of his staff have already began to prepare for the Super Bowls' extended halftime in addition to all the hoopla that comes before kickoff.
The game's typical 12-minute halftime is more than doubled in the Super Bowl, allowing plenty of time for this year's performers, pop group Maroon 5, along with rappers Travis Scott and Big Boi to take the stage.
On Thursday, special teams coordinator John Fassel said his unit will take extra measures to get warm before taking the field to start the second half.