ATLANTA — Following each media session, Quotes and Notes will bring you what was said, who said it, and what it means for your Los Angeles Rams in Super Bowl LIII.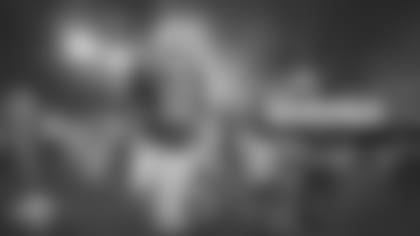 "Looking around, not a chance."
-HC SEAN McVAY
Head coach Sean McVay seemed to be only half joking when asked if things have calmed down some since Monday's Opening Night media frenzy.
McVay then told the hotel conference room's worth of reporters and dozens of cameras that his group can certainly feel the magnitude of the game, as he puts the final touches on the gameplan for Super Bowl LIII.
The Rams will begin practice on Wednesday at the Falcons' practice facility just outside of Atlanta.
"You don't shy away from it, but I haven't felt like any moment is too big for this guy."
-HC SEAN McVAY
The same sea of media members awaited quarterback Jared Goff as he met media on Tuesday morning.
McVay spoke before Goff, saying the California native should be able to handle the Super Bowl LIII stage, referencing Goff's performance battling the noise in New Orleans in the NFC Championship game.
Goff's performed well in primetime games in his third professional season. In Week 1's season opener on Monday Night Football, Goff had two touchdowns with no picks. Week 4 against the Vikings, Goff put up a career-high 465 yards and five touchdowns, hitting on 78 percent of passes. Goff went 25-of-40 in his second go around in New Orleans with 297 yards and a touchdown.
"It was a game where we learned about ourselves."
-QB JARED GOFF
Goff and the Los Angeles offense struggled mightily in one big primetime game in 2018 — Week 14 in Chicago.
The first of two back-to-back Sunday Night Football outings for the Rams was a tough one in the Windy City. Goff completed just 45 percent of his passes with no touchdowns and four interceptions, in his worst performance of the McVay era.
The Rams lost the game 15-6, but the young quarterback said he, his team, and McVay all took valuable lessons from the game, specifically mentioning learning how to make adjustments.
Although the Rams took a loss the following Week back in Los Angeles, Goff and his group bounced back against the Eagles, remainder of the NFC West schedule, and into the postseason, putting up at least 377 yards of total offense in each game leading up to Atlanta.
"Usually try to win that and get to the quarterback, so I'm smiling when I see that."
-DT AARON DONALD
Defensive tackle Aaron Donald was asked about the now-unlikely situation of facing a one-on-one matchup with getting to the quarterback in mind.
Donald expressed that he welcomes any one-on-one chance — he's also racked up a record-breaking 20.5 sacks this season, often against a double team.
According to NFL Next Gen Stats, Donald has 73 individual pressures in 2018 — which is the most ever recorded by NGS. Donald's faced Brady just once in his career, and he did not record a sack in the meeting.
"It's huge because one guy can't be targeted, so many guys get the ball, even our tight ends and our running backs. I think it makes us special and keeps us on our edge."
-WR BRANDIN COOKS
Goff's targeted 13 different Rams in the 2018 campaign — six Rams have been targeted at least 50 times — and wide receiver Brandin Cooks says that might play to L.A.'s advantage on Sunday.
The former Patriot has caught 86-of-117 targets in his fourth-straight season of at least 1,000 yards receiving. He trails wideout Robert Woods by thirteen targets.
"Definitely a tough cover — best tight end in the game."
-CB AQIB TALIB
Another former Patriot, cornerback Aqib Talib, had nice things to say about his ex-teammate, tight end Rob Gronkowski.
The veteran corner said Gronk is "a funny dude" as well as a hard worker when asked what type of person he is.
Gronkowski's caught 47 passes for 682 yards and three touchdowns in his ninth pro season.