Following each practice, Quotes and Notes will bring you what was said, who said it, and what it means for your Los Angeles Rams.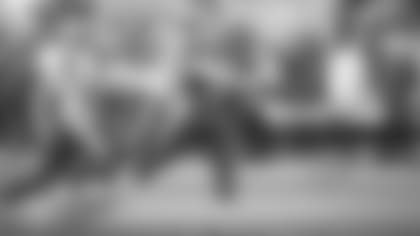 "Todd is our starting running back, but I think definitely over the last couple weeks C.J. has earned the right to be on the field."
-HC SEAN McVAY
Head coach Sean McVay said not much has changed regarding the status of running back Todd Gurley as the Divisional round approaches.
Anderson's logged back-to-back games with at least 130 yards rushing with two touchdowns in his two games as a Ram. The veteran back also offers playoff experience, including two runs to the Super Bowl with the Broncos. Anderson saw minimal action as a backup in the 2013 postseason, before taking the majority of carries for the Broncos en route to a Super Bowl 50 title in 2015. The newest Ram took 23 carries for 90 yards and a touchdown in his Super Bowl 50 start.
As for how much Anderson could play in the postseason or how he back will fit into the offense, McVay said it is to be determined — especially depending on the opponent.
"I think we will still be able to get a couple days where you're getting a little more rest, players are coming in a little bit later, and I think that's going to serve us well when we play next Saturday."
-HC SEAN McVAY
McVay said he expects his team's hard-earned, first-round playoff bye to pay off come the Divisional round.
The Rams are 2-0 coming off a bye under McVay. Los Angeles beat the Lions 30-16 Week 13 after the Thanksgiving weekend bye this season. Last year, the Rams trounced the Giants 51-17 returning from the Week 8 bye.
"That was my biggest emphasis this week was just — since I wasn't able to play the last two weeks — was trying to get my cardio back."
-RB TODD GURLEY
Gurley provided some insight into the preparation for his second-career playoff appearance on Thursday as he deals with the lingering knee issue that held him out of the season's final two games.
Gurley missed both Week 16 against the Cardinals and Week 17 against the Niners. The former Georgia Bulldog had only missed one game to injury in his five years as a pro — the final game of his rookie season in 2015 with a foot injury.
"I think if you've played some games in this league, it'll start to slow down. Some of our guys it's their second-ever playoff game, I think when you're in the game that will start to slow down for you."
-RB C.J. ANDERSON
Both Gurley and running back C.J. Anderson said the level and speed of play increases throughout the season and into the playoffs.
Anderson said the best way to slow things down is to develop experience playing in big games. The Super Bowl champ mentioned paying attention to detail and paying extra attention in breaking down film as two lessons that can be passed on to teammates with less playoff experience.
"No, it don't matter."
-DT AARON DONALD
Defensive tackle Aaron Donald gave his answer with a straight face when asked if he preferred facing one quarterback over another in the divisional game.
Donald could be after any one of Chicago's Mitchell Trubisky, Dallas' Dak Prescott, or Seattle's Russell Wilson next Saturday.
Donald posted two quarterback hits, but no sacks against Prescott in 2017. He also came up empty Week 14 in Chicago against Trubisky. However, things have not gone well for Wilson when lined up across from Donald. The pass-rusher has sacked Wilson more than any other quarterback in his career. In a future playoff matchup in the Coliseum on Jan. 12, Donald could potentially add to his 10.5 career sacks against the shifty QB.