ATLANTA — Following each media session during Super Bowl week, Quotes and Notes will bring you what was said, who said it, and what it means for your Los Angeles Rams.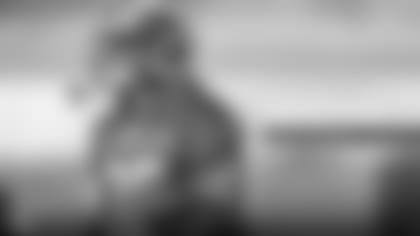 "Be great on third down, be great in the red zone, and protect the football. If we can do that at a high level, got a high chance at winning."
-RB C.J. ANDERSON
Running back C.J. Anderson joined the conversation surrounding Super Bowl LIII on Wednesday, giving his keys to winning it all for the Los Angeles offense.
The Rams have taken care of the ball season, boasting the league's No. 4 turnover differential and have given it away just once since Week 17.
Anderson described his keys as "the game of football broken down" — and said it's just the opposite for the defense. Anderson won Super Bowl 50 as a Denver Bronco.
"Me and Aqib — I think we've stressed, harping on what this week will be like so much and everything is unfolding like we said it would be."
-RB C.J. ANDERSON
With so much talk of the importance of staying focused and sticking to normal routines during Super Bowl week, it's not difficult to imagine the process has become a bit of a routine for the Patriots, who will play in their fourth Super Bowl in five seasons on Sunday.
Only four Rams have ever played in the big game and Anderson said he and cornerback Aqib Talib, also a Super Bowl 50 champ, are doing their best to lead the way through the sea of hype surrounding the game.
Anderson said he and Talib have developed credibility with first-timer teammates by accurately previewing all that comes with the game.
"They have a very multi-facet type of run [game]. They can run downhill, off the side, off-tackle, all the different pieces and it's going to be a challenge for our entire line — our entire defense."
-DT NDAMUKONG SUH
The Rams have been locked in on stopping the run against the Patriots since the conference title games wrapped up and defensive tackle Ndamukong Suh reiterated the challenge with the game four days away.
The Patriots have picked up at least 131 yards rushing as a team in six of their last eight games.
New England finished 2018 No. 5 in rushing yards per game (127) and are powered by an array of playmakers in running backs Sony Michel, James White, and Rex Burkhead.
"Really he's one of those guys that challenges you as a coach because you better have the answers because he's done his homework, he's studied, he's had experience playing at such a high level."
-HC SEAN McVAY
Suh's put up a few of his best performances as a Ram in his first- and second-career postseason wins. Suh logged four tackles, one for loss, and two quarterback hits against the Cowboys and Saints, along with 1.5 sacks in New Orleans.
Suh joked about challenging his head coach, saying that he had to give McVay a bit of trouble for being a couple minutes late for the team bus to their media availability one time in Atlanta.
Suh is a five-time Pro Bowler and three-time All Pro.
"If you go back and watch our year as a defense, when it came down to crunch time our defense stepped up."
-DT NDAMUKONG SUH
Suh said he is confident in his defense's ability to come up with a big late-game stop against the Patriots with over 100 million viewers worldwide.
The Rams defense slammed the door on offenses late in games all-season, most notably and recently in the NFC Championship game thanks to a big quarterback hit from outside linebacker Dante Fowler that forced an all but game-sealing interception in overtime.
Suh said an extra "Oomph" late in game is a product of both experience and his unit's focus on playing sound situational football.
Quarterback Tom Brady has 12-career game-winning drives in the postseason, which means the quarterback has led his offense to a game-winning, go-ahead score either in the fourth quarter or in overtime. Brady did it for the third-straight postseason in overtime in the AFC title game in Kansas City.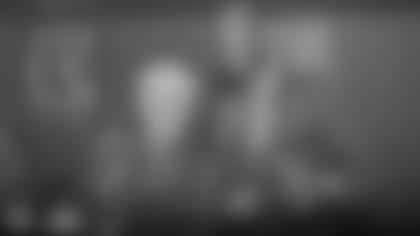 "Coach Wade cool as hell."
-CB MARCUS PETERS
Cornerback Marcus Peters stayed true to his matter-of-fact persona during his Super Bowl LIII media availability and said what the sports world is finding out through the game's extensive coverage.
The 71-year-old coordinator has drawn celebrity-like attention since showing up to Atlanta paying homage to his father Bum Phillips, wearing the coaching great's fur coat, accented by a large cowboy hat. On Monday, Phillips made news with his comments on CBS color commentator Tony Romo's predictive broadcast style.
Peters said he admires Phillips for waking up every day happy because he loves football.