Following media session, Quotes and Notes will bring you what was said, who said it, and what it means for your Los Angeles Rams.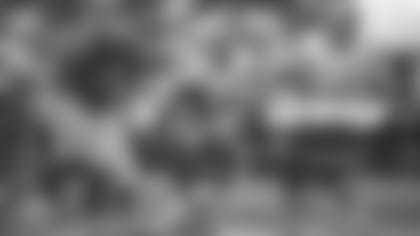 "If you can't handle getting gut-punched and responding, then this business probably isn't for you and that's the only way that I know how to respond as a coach."
-HC SEAN McVAY
Head coach Sean McVay said he won't be forgetting Sunday's loss any time soon, but he does expect his group to move on — starting with himself.
McVay's only lost back-to-back regular season games once in his career as a head coach, in Weeks 14 and 15 of this season against the Bears and Eagles.
"The amount of attempts that we had just rushing the ball in the last couple games was just a little bit different."
-HC SEAN McVAY
When asked about the dip in production from running back Todd Gurley against the Saints (four carries, 10 yards) in the conference championship and on Sunday against the Patriots (10 carries, 35 yards), McVay once again pointed to a lack of opportunities.
The head coach said his offense entered Super Bowl LIII intending to split looks between both Gurley and running back C.J. Anderson — suggesting each had earned the right.
In addition to the split carries, McVay's offense found itself in more passing situations, failing to pick up significant yardage on first and second down. According to ESPN Stats & Info, 45 percent of L.A.'s plays went for zero or negative yards.
"I wish I would have done my job better and I can promise next time if we get that opportunity I will."
-QB JARED GOFF
Quarterback Jared Goff opened his opened Tuesday press conference by thanking the Rams fans, coaches and staff, and team owner Stan Kroenke.
Goff admitted he may never get over the loss, in which he went 19-of-38 for 229 yards with one interception
Goff's promise from the podium at the team's Cal Lutheran practice facility comes a little over two years since the then-rookie quarterback promised a bright future for the club after completing just 45 percent of his passes for 90 yards in the Rams' sixth-straight loss on Christmas Eve against Niners in 2016.
"You say you're going to play in the Super Bowl and hold the New England Patriots to 13 points, but you guys aren't going to win — it's like, how?"
-QB JARED GOFF
Goff reiterated that the hardest part about losing to the Patriots on Sunday was considering how well the Los Angeles defense played in Atlanta.
The Patriots ran just one play from the red zone and won for the first time this season when scoring 20 points or fewer.
The defense generated both a fumble and interception, one of which resulted in a turnover. Quarterback Tom Brady took four hits in the game, and had five of his passes broken up by defenders.
"You got a taste of it — it's motivation, if anything it's motivation knowing that you fell short."
-DT AARON DONALD
Defensive tackle Aaron Donald, who is now the back-to-back AP Defensive Player of the Year in the NFL, says getting so close to the Lombardi Trophy is motivation for next season.
Donald had five tackles and one quarterback hit on Brady in the 13-3 loss — a defensive effort Donald seemed proud of.
No. 99 earned his second DPOY award the eve of the Super Bowl after a historic 2018 season. Donald's 20.5 sacks set a new Rams franchise single-season record and the NFL record for most sacks by an interior lineman. The Pittsburgh product also led the league in both tackles for loss (25) and quarterback hits (41) in his fifth professional season.
Donald said he'll begin working out for Year 6 on Thursday.
"Our coach is a fantastic guy that takes all the blame, all the guilt, but at the end of the day it's up to us players to be able to get that done and we didn't get it done."
-LG RODGER SAFFOLD
Veteran left guard Rodger Saffold took a bit of the load off his head coach days after his offense found the red zone just one time, and totalled just 291 yards without a touchdown in Super Bowl LIII.
Saffold spoke about what's next for the NFC Champions on Tuesday morning, saying first and foremost the end of the season provides a chance to get healthy — whether it's with or without him, as the ninth-year Ram enters the offseason with an expiring contract.
"Of course," Saffold said when asked if he'd like to return to Los Angeles for a 10th season with club.
Saffold's offensive line took home the Built Ford Tough Offensive Line of the Year Award at 2019 NFL Honors.
"I think coach McVay and the staff here and some of the key players here have the talent and the expertise to get them over that hump."
-RB C.J. ANDERSON
Running back C.J. Anderson — another player facing free agency this offseason — sees a bright future in L.A.
Anderson joined the Rams in Week 16 and tacked up 299 yards rushing with two touchdowns in the pair of regular-season games. Then he entered Rams franchise history books with Gurley, as they became the first pair of players to rush for at least 100 yards each in a playoff game in team history. They accomplished the feat against the Cowboys in the Divisional round.
Anderson lost Super Bowl XLVIII before winning Super Bowl 50 as a Bronco. He said falling short in the big game in 2013 was a big help in winning it two years later.
"That was a dream that I've been having since I can remember."
-DE JOHN FRANKLIN-MYERS
Rookie defensive end John Franklin-Myers was proud of his first-quarter strip-sack on Brady, despite not getting the results he desired in Sunday's game.
Franklin-Myers played in all 16 games and posted 2.0 sacks along with a forced fumble in his rookie season out of Stephen F. Austin.
When asked if his Super Bowl moment sets him up for big things in the future, Franklin-Myers said, "It's a start."