Following each media session, Quotes and Notes will bring you what was said, who said it, and what it means for your Los Angeles Rams.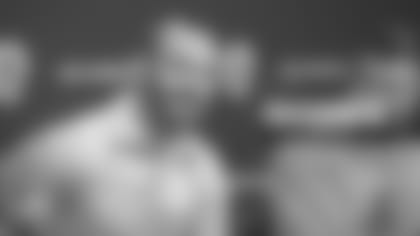 "After practices I remember Sean coming back a lot and mentioning how challenging it was to go against Eric."
-GM LES SNEAD
General manager Les Snead shared a story from the 2018 preseason that may have been part of what got the wheels turning in the Rams front office to bring safety Eric Weddle onboard late last week.
The Rams traveled to Baltimore for a week of practice during training camp last summer, before playing the Ravens in the opening game of the preseason, and the general manager said Weddle's impact left head coach Sean McVay puzzled at times.
Snead said the impact of Weddle's addition could be similar to the value of having veteran left tackle Andrew Whitworth around to help younger players. Weddle, 34, is entering his 13th year in the league.
"If you know nothing about football, you can just see that this guy is a playmaker — he's consistently done that."
-HC SEAN McVAY
Weddle's 29-career interceptions puts him at No. 9 among all active players as he joins the Rams for Year 13.
Weddle earned Pro Bowl honors in each of the last three seasons and the attention of McVay, grabbing 10 interceptions, forcing three fumbles, and recording at least 60 tackles in each of the three seasons.
The head coach described Weddle's character as "perfectly in alignment" with what the Rams are looking for.
"I haven't hit my prime yet, so you guys get ready."
-S ERIC WEDDLE
Despite Snead comparing his newest safety to the 37-year-old Whitworth, Weddle seemed to half-joke that he's hitting his prime ahead of the self-described 'final chapter' in L.A.
Weddle's numbers have been mostly consistent since he was drafted in the second round by the Chargers back in 2007. His donut in the interception column in 2018 was just the second season in his career without recording a pick.
"I reached out to J.J. as soon as I signed here and just let him know I can't wait to get to work with him."
-S ERIC WEDDLE
Weddle will join one of the league's more recognizable secondaries in 2019, taking the field with cornerbacks Aqib Talib, Marcus Peters, and budding stars, cornerback Nickell Robey-Coleman and safety John Johnson.
Weddle is expected to slot into the starting safety spot alongside Johnson, who led the team in interceptions in 2018. The newest member of defensive coordinator Wade Phillips secondary sounded a lot like defensive tackle Ndamukong Suh in training camp a season ago, saying a stacked defense "doesn't matter if you don't get to work."
"He's an all-around player, he can do it all — blitzes, he can cover, play the middle post — he can do it all."
-S JOHN JOHNSON
Johnson dropped in the Rams' media room to meet his newest teammate with a handshake after Weddle faced the Los Angeles reporters for the first time.
The second-year safety out of Boston College said he's watched Weddle going back to his middle school days and admires his ability to make plays in a variety of ways.
"That was something that was a big priority for us."
-HC SEAN McVAY
The Rams agreed to terms on a one-year deal with outside linebacker Dante Fowler on Sunday evening. On Tuesday, McVay and Snead disclosed that returning their midseason edge rusher solution has been a priority all along.
Fowler returns to the Rams after the most productive season of his career, split between Jacksonville and Los Angeles, logging 4.0 sacks, two forced fumbles, and 30 total tackles.
McVay commended Fowler's ability to adjust, joining the club ahead of Week 9, as well as the pass rusher's playmaking in the postseason.