Following each media session, Quotes and Notes will bring you what was said, who said it, and what it means for your Los Angeles Rams.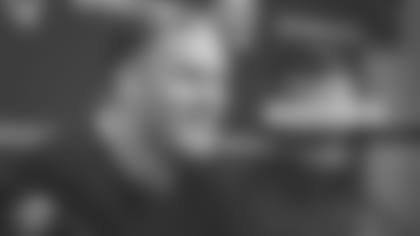 "I think his production and what he's put on film throughout the course of his career speaks for itself."
-HC SEAN McVAY
Head coach Sean McVay sat next to his new linebacker Clay Matthews and called the team's latest signing a great match, before the feel-good introductory press conference complete with plenty of banter and smiles ensued.
McVay commended Matthews' versatility and veteran experience as he commits to an 11th professional season as a Ram.
Matthews is a six-time Pro Bowler and former All-Pro in Green Bay. His 83.5-career sacks puts him at No. 7 among all active players.
"Our systems are always adapted to our players' strengths and when you have a player that has that versatile skill set, you can utilize him in a variety of ways."
-HC SEAN McVAY
McVay said Matthews plays at an extremely high level when rushing the quarterback and setting the edge against the run — in addition to the creative option in the middle of the defense in passing situations.
Matthews was drafted in the first round of the 2009 NFL Draft after wearing a variety of hats at the linebacker spot under head coach Pete Carroll at USC. He's spent time both off the edge and inside as a professional.
McVay said he's already been dreaming up ways to create ideal matchups using his pass-rush arsenal of defensive tackle Aaron Donald, outside linebacker Dante Fowler, and now Matthews.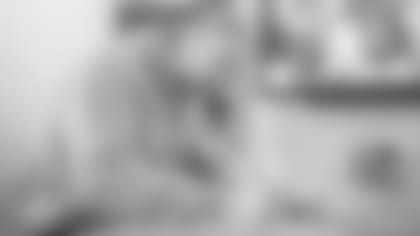 "To be honest with you, I probably would have signed without even taking a visit."
-QB BLAKE BORTLES
Quarterback Jared Goff's newest backup was candid about how much he wanted to be in L.A. after he was released by the Jaguars early in free agency on a conference call with local media Thursday afternoon.
Quarterback Blake Bortles, who spent time in and out of a starter's role in Jacksonville last season, said working under head coach Sean McVay was the main factor in his gut reaction to head to the Rams in a hurry.
In addition to joining "everybody [who] wants a piece of what [McVay] is doing," Bortles described a quarterbacks room fit, as he'll align with Goff, who shares an agent and is friends with the former Jag, and fellow backup Brandon Allen, who previously spent time in Jacksonville.
"I want to get an opportunity to start in this league and I think in order to do that, this is the best step."
-QB BLAKE BORTLES
Bortles addressed his expected role backing up Goff in 2019 on Thursday, but also said he sees his time in L.A. as a chance for personal development.
He provided an example of his own experience, earning the starting job over former Jaguars quarterback Chad Henne as young signal-caller, saying Henne laid out a type of blueprint of how to be a "true professional" backing up a starter.
Bortles started 13 games last season and completed 60 percent of his passes for 2,713 yards and 13 touchdowns.
"You can see that he's always been a competitor and love the way that his teammates have always been a fan of his, I think that says a lot about the player and the person."
-HC SEAN McVAY
In addition to noting that Bortles has experienced success as a starter, McVay also seemed encouraged about the veteran backup willingness to support Goff.
McVay appeared excited about Bortles' athleticism and ability to create with his legs, in addition to his experience in the postseason.
In three postseason games, Bortles has completed 57 percent of his passes for 594 yards and three touchdowns.
"From a football standpoint it makes perfect sense, but for me personally where I'm at in my career, I grew up in the area, living all of 20 minutes from here… it made sense."
-LB CLAY MATTHEWS
Matthews said Rams fans can expect exactly what he's done for the last 10 years of his career following the move to his home state of California — just one reason joining the NFC Champs made sense.
The Super Bowl champion called the Rams swift rise to the top of the NFL in L.A. "truly remarkable."
"That was a great game too, one that we should have won—"
-LB CLAY MATTHEWS
Matthews was cut off by his new head coach's
"but you didn't" when recalling his Week 8 matchup against the Rams last season as a Green Bay Packer.
The linebacker reminisced on his days in the Coliseum as a USC Trojan and seemed pleased to have the chance to play professional football in the stadium, before looking even further down the road at possibly taking the field in the brand new Los Angeles Stadium set to open in 2020.
Matthews attended Agoura High School — located just 10 miles from the Rams practice facility in Thousand Oaks, Calif.