Following each media session, Quotes and Notes will bring you what was said, who said it, and what it means for your Los Angeles Rams.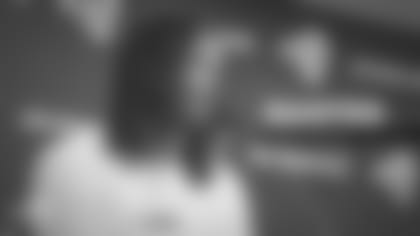 "He's got a plan, he's so well thought out, he's got some things that have worked for him, and I think within the framework of being around your teammates — you don't worry about Aaron working on his own."
-HC SEAN McVAY
Head coach Sean McVay said he plans to sit down with defensive tackle Aaron Donald on Monday afternoon to talk about the two-time AP Defensive Player of the Year's offseason schedule going forward.
Donald, who has missed out on the majority of the club's past two offseason programs, was in the building and addressed the media on Monday afternoon, however, McVay seemed supportive of the Pittsburgh native participating in individual workouts back on the East Coast.
"Unless I'm told otherwise, he's a pretty versatile back and we are going to continue to utilize all his skill sets."
-HC SEAN McVAY
As for his offensive superstar and the league's leader in touchdowns a season ago, McVay said he sees running back Todd Gurley contributing as usual in 2019.
The head coach said his staff was trying to be smart, sitting Gurley from Week 16 through the end of the regular season in 2018, and then reiterated the Georgia product will once again be a focal point in the Los Angeles offense.
Gurley scored 21 touchdowns and tacked up 1,831 total yards of offense in year four.
"Same old me, back in Pittsburgh, doing the same stuff I always do — just working out."
-DT AARON DONALD
Donald said he actually took "about two or three" days off following the Super Bowl loss — a vacation compared to the one day of rest he originally set aside while cleaning out his locker once the plane landed back in L.A. back in February.
Donald said he hopes to get in better shape and improve his game to do more for the defense — more than last season's NFL interior lineman and Rams' record 20.5 sacks, plus 41 quarterback hits, 25 tackles for loss, and four forced fumbles.
"Having these two guys — great edge rushers, I think that's going to open up a lot more one-on-ones for us inside."
-DT MICHAEL BROCKERS
Speaking of sacks from the interior, 2018 team captain, defensive tackle Michael Brockers says he hopes the Rams re-signing OLB Dante Fowler Jr. and adding LB Clay Matthews to the L.A. defense will make life easier for him and Donald next season.
Brockers had a relatively quiet 2018 — posting just one sack along with a career-low four quarterback hits, and four tackles for loss. He started in all 16 games.
"I want to continue to get the completion rate up."
-QB JARED GOFF
Along with improving his footwork, quarterback Jared Goff says he hopes an improved completion rate leads to more wins, when laying out his goals for year four.
Goff's completion percentage has improved in each of his three seasons — most dramatically from 54 percent his rookie season, to 62 percent in year one under McVay.
Goff's equation checked out in 2018. He completed a career-high 64.9 percent of his passes and the Rams won 13 games for the first time since 2001.
"Days like today help getting past it of course, where you're with the guys and you're able to start moving forward in a different direction and towards a new goal."
-QB JARED GOFF
Goff said the Rams are putting their best foot forward, after admitting it's been challenging to "mend" the Super Bowl loss without an immediate opportunity to respond on the playing field.
Likely later this week, Goff will learn his opponent for Week 1 of the 2019 season — his first chance to bounce back from his Super Bowl LIII performance, which amounted to 229 yards passing and one interception with no touchdowns.
"Everyone's going to get hurt — no if ands or buts about it — it's just how you come back from it. It's not the first time I've been hurt, it's not the last time I'm going to be hurt."
-RB TODD GURLEY
Gurley told the media on hand Monday afternoon that he was feeling good and taking things day by day following his "different" offseason — which the running back said was full of family time and world travel.