Following each media session, Quotes and Notes will bring you what was said, who said it, and what it means for your Los Angeles Rams.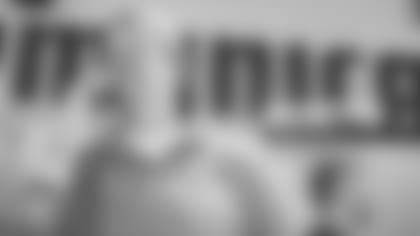 "Everyone you pick you have a plan for, you're jacked to get them, it was intentional why we did it, and there was definitely a plan for how we're going to use them."
-GM LES SNEAD
The Rams took eight players in the 2019 NFL Draft — four of which came in the top-100 selections.
Head coach Sean McVay seemed pleased with the 2019 haul, saying all he and general manager Les Snead had planned entering the draft was taken care of.
"I think the No. 1 thing that we try to find out when someone goes through adversity is what happens after that adverse moment."
-GM LES SNEAD
Snead went into the decision to add former Texas Tech linebacker Dakota Allen with Los Angeles' final pick. Allen split his time at Tech with a season at East Mississippi State Community College, where he was featured on the Netflix original series 'Last Chance U' following off the field issues as a Red Raider.
Allen returned to D1 ball and earned All-Big 12 honors in consecutive seasons as a captain. On Saturday, Allen said the experience re-shaped what he valued — family and football.
"He said, 'Hey Nick I'm looking at your film and I'm extremely surprised that you're not here right now.' We've been in contact ever since then and he told me he was going to draft me and kept his word."
-S NICK SCOTT
The first of the Rams' pair of seventh-round picks was a favorite of special teams coordinator John Fassel since well before L.A. took him out of Penn State.
Safety Nick Scott shared the story of his recruitment to Los Angeles, revisiting a conversation with Fassel, absent of NFL Combine. Scott is expected to slot into a special teams role in his rookie year with the Rams after two seasons as the Nittany Lions' special teams captain. He was named the team's Special Teams Player of the Year as a freshman.
"Complete shock — just really grateful and appreciative that they gave me this opportunity."
-OL DAVID EDWARDS
The Rams newest offensive lineman out of the University of Wisconsin was caught off guard when the defending NFC champs called him at No. 169.
Edwards is a 6-foot-6, 308-pound former First Team All-American, who started 31 games at right tackle for the Badgers in three seasons.
Snead said both Edwards and offensive lineman Bobby Evans should expect to be cross trained for the Rams O-line.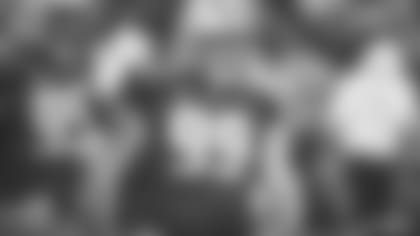 "He is a guy that we identified that we feel like will really do a great job as a nose guard in our base package."
-HC SEAN McVAY
The Rams checked a position need off of their list with their first Saturday selection defensive tackle Greg Gaines, and it looks like he could earn some early playing time in L.A.
Gaines tallied 9.5 sacks, 148 tackles, 20.5 tackles for loss, four passes defensed, and one interception as a three-year starter at defensive tackle at Washington.
McVay said Gaines' Senior Bowl performance was a difference-maker during the scouting process.
"I think I can make an impact right away."
-DT GREG GAINES
Gaines cited his ability to study offenses and strength as reasons he will be able to make an immediate impact in L.A.
When Gaines steps onto the field for the first time as a Ram, it will also be the young D-lineman's first ever NFL game. The former Huskie said he's never been to professional football game, growing up in Los Angeles — setting up quite the homecoming for Week 2's game against the Saints in 2019.