Following each media session, Quotes and Notes will bring you what was said, who said it, and what it means for your Los Angeles Rams.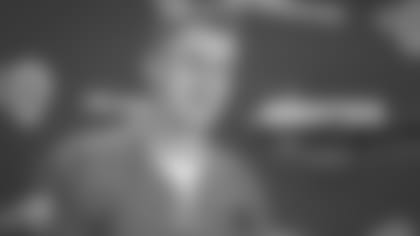 "You forget how much offense we actually have because weekly it's so narrow and it's so focused, then you come back to this period and it's like holy smokes."
-QB JARED GOFF
The Rams are headed for year three with head coach Sean McVay and quarterback Jared Goff leading the offense and the signal-caller says the playbook is getting thick.
Aside from a few expected first-day glitches, McVay was pleased with the energy from his group on the 90-man roster as Phase III is now underway. The defending NFC Champs spent two hours on field at the team facility in Thousand Oaks, Calif., which featured 11-on-11 offense vs. defense for the first time since preparations for Super Bowl LIII back in February.
"He's like a kid standing on the sidelines that just wants to be able to grab a ball and go play."
-HC SEAN McVAY
McVay updated the status of wide receiver Cooper Kupp, who spent the afternoon between on-field drills and the stationary bike. The head coach said Kupp is making 'great progress' headed for year three, coming off last November's ACL tear.
Kupp is expected to return in time for the season opener Week 1 against the Panthers.
"It's early, but you can feel that they've had an impact on this team already."
-HC SEAN McVAY
In the handful of new faces and jersey numbers who took the field for Phase III were veterans Eric Weddle and Clay Matthews — who have already made an impact at the safety and linebacker spots and the defense as a whole, according to McVay.
More specifically, McVay said the pair brings some flexibility to the unit — a measure of Weddle and Matthews' combined 22 years of NFL experience.
"J.J. — a budding star — it's just a great opportunity for me to not only play alongside him and help, and learn things from him as well."
-S ERIC WEDDLE
Weddle and third-year safety John Johnson took the field together against an offense for the first time on Monday.
After the pair's practice-field debut, the veteran said he's here to push Johnson, who led the club with four interceptions in 2018.
"Just to get out here and compete against the defense is always fun — to actually go against somebody."
-RB MALCOLM BROWN
With running back Todd Gurley away from Day 1 of the voluntary third phase of the offseason program, it was his position mate Malcolm Brown taking carries with Goff and the 'ones' at practice.
Brown welcomes the idea of splitting looks with Gurley as the pair enter year five together, and said that he feels comfortable as ever entering year three as a member of McVay's offense.