Following each media session, Quotes and Notes will bring you what was said, who said it, and what it means for your Los Angeles Rams.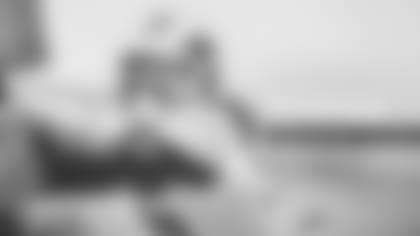 "The things are endless. I think the biggest thing for us is just focusing on what is the intent of the day."
-HC SEAN McVAY
The Rams kicked off their final week of OTAs on Monday afternoon and head coach Sean McVay says his team is looking inward trying to polish things with the majority of the playbook installed.
As for what exactly needs to be cleaned up ahead of July's training camp, McVay mentioned understanding situations, pre-snap and in-the-huddle communication, in addition to finer details. The Rams will take an approach similar to OTAs when mini-camp hits next week.
"Clearly he's got so much ability and the God-given talents, but now I think being able to seamlessly use all those things and be able to go react and not have to feel like you're thinking — I think that will make him that much better."
-HC SEAN McVAY
Outside linebacker Dante Fowler was on hand for the seventh OTA workout of the offseason, after wrapping up some personal business and individual training in his home state of Florida.
McVay seemed pleased to have Fowler on hand and said he looks forward to seeing what the pass rusher can do with a full season in the Rams system under his belt.
Fowler logged 2.0 sacks, four tackles for loss, and five quarterback hits as a Ram in 2018.
"I'm just going to go out there and be the Dante that I am and I'm very excited for it."
-OLB DANTE FOWLER
Fowler seems to be on the same page as his head coach, expressing excitement about working with the Rams coaching staff and facing the opportunity to play his preferred position as a "hybrid linebacker pass rusher" in coordinator Wade Phillips defense.
Fowler spoke at length about his injury, off-the-field issues, and lack of opportunity in Jacksonville leading up to the club trading him to L.A. at the deadline last season.
The former No. 3-overall pick claims to have a better grip on the playbook headed into 2019 with a one-year deal in hand.
"Our goal is to get him ready to go for camp."
-HC SEAN McVAY
Quarterback Jared Goff was handing it to running back Malcolm Brown once again on Monday, as running back Todd Gurley continued to work off the field individually.
In his press conference, McVay painted a picture of when he hopes to have Gurley at full go, when the team reports to camp on July 26.
McVay noted that the Rams will practice with both the Raiders and Chargers in August — an opportunity that McVay said should give his first unit enough reps to where playing in the preseason once again won't be a priority for starters.
"He brings experience to the secondary and it's going to help us out a lot. I love playing with him already."
-CB AQIB TALIB
Back on the defensive side of the ball, cornerback Aqib Talib was encouraged about what safety Eric Weddle adds to his 11.
More specifically, Talib said he's been impressed with the 12-year vet's communication on the back end of the defense. The veteran DBs combine for 64 career interceptions. Talib ranks No. 2 and Weddle No. 9 among all active players.