After each media session, Quotes and Notes will bring you what was said, who said it, and what it means for your Los Angeles Rams.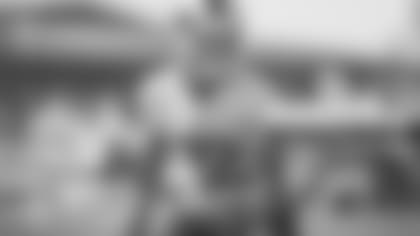 "[B]eing here and getting myself in football shape and working my moves, hopefully it won't take me four games to get going this year. … If anything, I should be better."
— DT Aaron Donald
You've probably heard it by now — defending back-to-back Defensive Player of the Year Aaron Donald is at training camp for the first time since 2016.
Last year Donald finished with 20.5 sacks — good for a franchise record as well as the league record for sacks by an interior lineman.
But Donald pointed this out himself after Sunday's practice: It took until Week 4 for him to get his first sack last season.
Being at training camp this year, Donald says his expectation is to be more "football ready" when the first game against the Panthers rolls around in September.
"You been watching? He looks pretty good."
— HC Sean McVay
Head coach Sean McVay joked a bit when a reporter asked how he thinks Donald has looked through the first couple practices.
This is the first time Donald has been at training camp since McVay became the Rams' head coach in 2017.
McVay said it's good to have Donald around because he elevates those around him simply from his strong work ethic.
McVay added on Donald, "The best part about Aaron is, he's gong to look at himself, he's going to be critical, and he'll come out tomorrow expecting to improve on some of the things he did today."
"That was part of the plan. He's feeling good."
— HC Sean McVay
Rams running back Todd Gurley did not practice on Sunday. He was on the field in a jersey to support his teammates, but he didn't participate in the full-speed activities.
McVay said Gurley did do some of the work the club did during walk-thru in the morning.
On Saturday, Gurley said he loves the schedule that's been set out for him.
For now, Gurley is on an every-other day schedule. But that's likely going to change with the way the Rams will move around throughout the month of August.
L.A. will travel to Napa to take on the Raiders for a couple of practices. And then the Rams will travel to Hawaii to face the Cowboys in the second preseason game.
"I'm just here to play football. The rest of that stuff, we'll take care of when it's time."
— CB Marcus Peters
Cornerback Marcus Peters is entering the last year of his rookie contract, but he's not holding out for a better deal.
Peters said he has bigger goals than just worrying about his contract at this point.
The cornerback said he feels if he comes in, does what he needs to do, then everything else will take care of itself.
As McVay put it, if Peters has a big year, that's a benefit to the Rams as a whole. That seems to be exactly the attitude Peters is bringing to the table as well.
"It's amazing to have him here, and it's going to be wonderful to have him here."
— CB Marcus Peters
Peters has also been enjoying the veteran presence safety Eric Weddle has added to the secondary.
It's easy to see the impact Weddle makes during practice, as he's often communicating with players either as they're on the field or on the sideline.
Peters likes that he can soak up the veteran knowledge from Weddle and his fellow cornerback Aqib Talib. He noted that third-year safety John Johnson III now has the same kind of veteran mentorship that Peters received last year.
How exactly that will translate on the field remains to be seen, but it certainly should make the secondary better.
"He's telling me my weaknesses and things I need to clean up and trying to teach me things that I can do better and work better that can help my game."
— DT Aaron Donald
When a player has 20.5 sacks, it seems like there isn't really that much room for improvement.
But Donald wants to maximize all of his talents, which is why he's been enjoying new defensive line coach Eric Henderson's presence.
Donald said that the drills Henderson was one of the biggest reasons he wanted to be around during the offseason program.
According to Donald, Henderson broke down the defensive tackle's film well to bring up things he could improve. Plus, Donald liked the drills Henderson brought to the field.
All these elements are adding up to mean that there's a real possibility Donald is better in 2019 than he was in 2018.