Following each media session, Quotes and Notes will bring you what was said, who said it, and what it means for your Los Angeles Rams.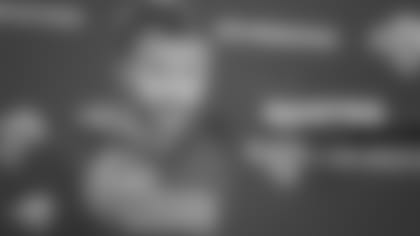 "A lot of work to still be done once we hit training camp, but the guys have done a nice job this offseason and we are very pleased with where we are at."
-HC SEAN McVAY
The Rams wrapped up the offseason's first half of team activities with Tuesday's minicamp session, and are now set reconvene in late July on campus at the University of California Irvine for training camp.
McVay addressed his squad of 90 on the practice field following Tuesday's practice, which mostly consisted of an 11-on-11 jog-thru for the 'ones', before elaborating on what his group accomplished in OTAs.
"Great players influence other players, and he works so hard, and it's helped our whole defensive team overall him being here."
-DC WADE PHILLIPS
Defensive coordinator Wade Phillps opened his Tuesday media availability describing the impact having defensive tackle Aaron Donald on hand for the majority of the offseason program has had on his group.
Donald, however, was not on the field for Tuesday's team activities. Head coach Sean McVay explained No. 99's absence, saying the pass rusher had business to take care of in his hometown of Pittsburgh, and that was OK with the team.
"We thought he had potential last year, he kept working at it throughout the year — he's a real strong, powerful guy inside, so he's stepped in there and looked good this spring."
-DC WADE PHILLIPS
Phillips later addressed the middle of his defensive front and the nose tackle position, where he's been impressed with what defensive tackle Sebastian Joseph-Day has had to offer ahead of year two. Joseph-Day went the entirety of his rookie season without being named to an active roster on game day.
Phillips also mentioned rookie defensive tackle Greg Gaines when considering who will take over at nose. The former Washington Huskie and No. 134-overall pick logged 56 total tackles, 4.5 sacks, and 7.5 total tackles for loss in his senior season.
"As long as I'm fortunate to be enough in this role, hopefully this guy is stuck with us for a long time."
-HC SEAN McVAY
McVay made it clear how he feels about working alongside quarterback Jared Goff as the pair prepares for their third year together leading the Rams offense.
The head coach was asked about the chance of a long-term deal for Goff after Eagles quarterback Carson Wentz — the No. 2 pick behind Goff in 2016 — was extended over the weekend. McVay once again batted away any notion that Goff's merely a product of his system, applauding the young signal-caller's ownership of the offense and ability to communicate with his team.
"You definitely think about it, but at the same time I know that it's impossible without playing and being available on the field."
-QB JARED GOFF
Goff didn't seem concerned about landing his next contract with the Rams after learning about Wentz's deal.
The California native has improved each season in Los Angeles, most notably operating alongside McVay. Goff reached career highs in 2018's march to Super Bowl LIII, tacking up 4,688 yards passing and 32 touchdowns.
"It's football, it's the game I've been playing my whole life, so it's nothing new to me. I know what I'm capable of."
-RB TODD GURLEY
Running back Todd Gurley took to the podium for the first time in a number of weeks on Tuesday, and said while he certainly hears a lot of the outside noise regarding the health of his left knee and level of participation in the Rams offseason program, it's all a part of the game.
Gurley echoed the sentiment McVay expressed just minutes earlier — that he feels good and the plan the pair laid for the star back's offseason has been followed on campus at the team facility at Cal Lutheran University in Thousand Oaks.
McVay said the plan is for Gurley to see on-field action come training camp.