After each media session, Quotes and Notes will bring you what was said, who said it, and what it means for your Los Angeles Rams. Here's what you should know from Wednesday, Aug. 7.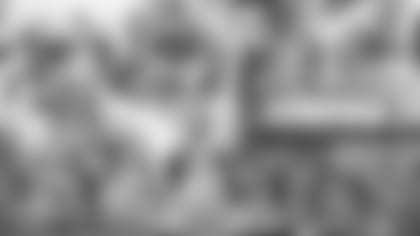 "I think those two have really showed a huge amount of growth together."
– HC Sean McVay
McVay has been happy with the development of both Goff and second-year center Brian Allen so far.
Between what he saw during the blitz periods and other looks presented by the Raiders' defense, McVay said both players did an "outstanding job" communicating with each other.
This is good news for the Rams, as Allen is slated to be the team's starting center according to the unofficial depth chart following John Sullivan's departure during the offseason.
"He's continuing to knock that dust off, knock that rust off. I think today really showed that and he looked good."
– QB Jared Goff
Cooper Kupp looked like his usual self in Wednesday's joint practice with the Raiders in Napa, Calif.
The third-year wide receiver connected with Goff on a deep ball down the left sideline that would've gone for at least 30 yards during the 11-on-11 portion of practice.
Kupp also withstood a big hit from two Raiders defenders within that same session, further solidifying how he feels at this stage of the preseason.
"It's been a slow build, not necessarily a slow build, but it's been a progressive build, if you will. It's all still geared towards that opener against the Panthers, but he hasn't had any sort of setbacks."
– HC Sean McVay
"I don't know how I was feeling last year at this point. It's just another day, another day to come out here and practice, compete, work on what you've got to work on, and don't worry about nobody else."
– RB Todd Gurley II
Both McVay and Gurley feel good about the plan in place to maintain Gurley's health leading into the 2019 season.
McVay said the Rams will stick with the same schedule of giving the three-time First Team All-Pro every other day off and it is "more likely than not" that Gurley will not practice on Thursday.
Whether Gurley participates or not, he understands the mental reps he gets are still valuable.