IRVINE, Calif. – The last open practice of 2022 Rams Training Camp presented by UNIFY Financial Credit Union was a day for the defensive backs, but still had a few impressive plays by wide receivers, too.
Here are 10 things that stood out from Tuesday's session: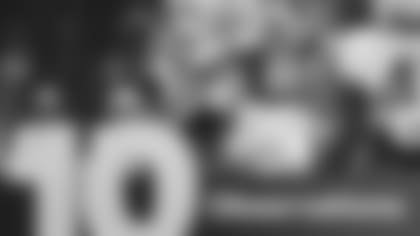 1) Dos for Cinco: Defensive back Jalen Ramsey participated in 11-on-11 team drills and made the most of that action, recording a pair of interceptions during that segment. On the first one, he picked off a deep John Wolford pass in the endzone intended for wide receiver Cooper Kupp. On the second one, he lept near the sideline to pick off Wolford again.
2) Extended work for Stafford: Quarterback Matthew Stafford got work during 11-on-11 team drills Tuesday, in what McVay confirmed was his biggest workload of training camp yet. "It was a good step in the right direction, I was really pleased with him," McVay said.
3) Another big play from Atwell: Wide receiver Tutu Atwell was on the receiving end of another explosive pass play, hauling in a deep touchdown pass from Wolford in 7-on-7 drills.
4) How did he do that?: Continuing what was seen over the last few practices, wide receiver Allen Robinson II made a competitive catch with Derion Kendrick in tight coverage near the sideline. This time, though, it was an incredible one-handed grab.
5) Bounce back: A few plays after that one-handed grab by Robinson, Kendrick had a nice response by breaking up a Stafford pass intended for Kupp.
6) On the rise: Rookie defensive back Russ Yeast capped off team drills returning an interception for a touchdown.
7) Toe-tap: Wide receiver J.J. Koski had one of the most impressive catches of the day, making a toe-tap touchdown grab during 7-on-7 drills.
8) Denied by David: Cornerback David Long Jr. also got in on the interception action with a pick on Wolford that came shortly after Ramsey's in 11-on-11.
9) Toe Tap II: Wide receiver Ben Skowronek made a tough touchdown catch in the back of the endzone in 7-on-7 on a Wolford pass.
10) Having some fun: During warmups, defensive coordinator Raheem Morris and special teams assistant Jeremy Springer bounced volleyballs to simulate live ball scenarios (i.e. onside kick, downing a punt) that the players seemed to enjoy.